Description
Optishot2 Golf In A Box 1 Simulator Package -

BUY FROM THE #1 TRUSTED Site for Remote/Non-Remote Control Electric Golf Caddies! (In Business since 2005). Call Us to Learn More about SPECIAL OFFERS! (702) 723-8348.
For a limited time, we are offering the Optishot2 Golf In A Box 1 Simulator Package for $1000.00, with FREE SHIPPING to all U.S. customers (excluding AK and HI - we currently do not ship to AK and HI). Please Note: We cannot ship this item to an address that does not match the billing address on your credit card. Please verify that your SHIP TO and BILL TO Addresses match the billing address of the card that is used. Failure to meet this criterion will result in the order being canceled. Cancellation Fee of 3% will be deducted. ALL OptiShot ORDERS REQUIRE SIGNATURE UPON DELIVERY.
OptiShot2 is the most affordable, quality golf simulator available starting at under $500. It is a great entry level golf simulator package. It has a stunning 3D graphics, many entertaining game options and allows up to 4 players to play at the same time. It also includes the most well-known golf courses around the world, multiple camera views, and weather conditions that are customizable. Optishot2 is truly a fantastic golf simulator to enjoy with your friends and family. The OptiShot Swingpad is very precise with 16 high-speed 48MHz infrared sensors that track your club swing data and provide incredibly accurate shot simulation. It is sure to improve your game by allowing you to study your shot patterns and giving you immediate feedback on your shots. It is very simple and easly to set up and allows you to play golf year round no matter what the weather condition. OptiShot2 golf simulator is the best value for your money.
How OptiShot Works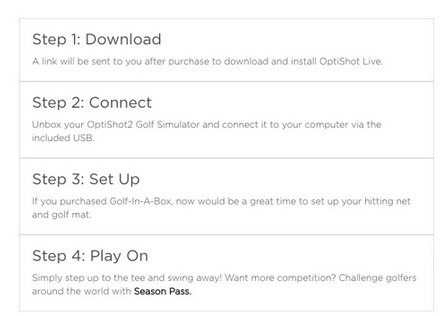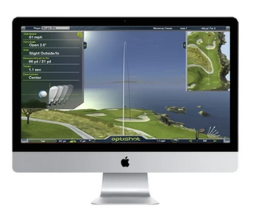 Golf-In-A-Box 1 comes with everything you need to have your very own golf room. OptiShot is an award-winning golf simulator system that is built for all types of golfers. With 15 world-renown courses included, a realistic 3D environment and the ability to play up to 4 players, OptiShot is a leader in golf simulator technology. Along with the OptiShot2 simulator, you'll get OptiShot's high grade hitting net, as well as the hitting mat specifically designed to fit the OptiShot2 Simulator.
NOTE: Items are drop shipped from multiple vendors, and may arrive at different times.
What is included: 
OptiShot2 Infrared Optical Swing Pad (

Size: 14 ½"(L) x 9 ¾"(W) x 1 ⅜"(H)

)


OptiShot2 Software (Download)

15 Courses 

Driving Range

USB Cable


Adjustable Rubber Tees

Two (2) Foam Practice Balls

Instructions

1 Year Warranty

Software Updates

OptiShot Hitting Mat

OptiShot Full Portable Hitting Net (OptiShot 8.5' Popup Practice Net)
OptiShot2 Golf Simulator
Swing and ball shot accuracy creates a virtual experience that is just like playing real golf

Sixteen high-speed 48MHz infrared sensors are calibrated to track your favorite clubs, before, during and after contact, giving you exact and immediate feedback on your shot

Includes software download with 15 standard courses and many fun games


Compatible with Windows - full systems requirements are listed below

You will have access to all software updates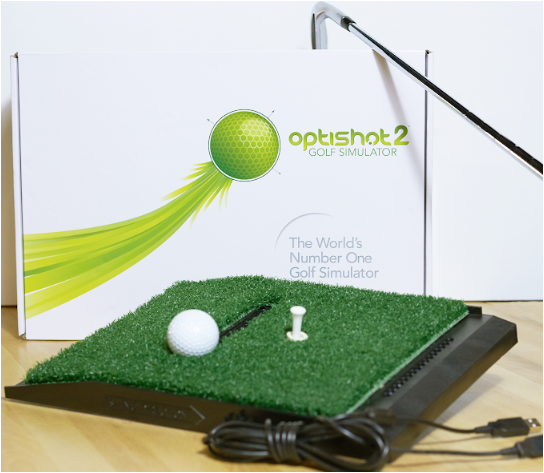 OptiShot2 Comes With The Following Gold Courses:
The Golf Club Scottsdale

Long Island Black

Torrey White

Torrey Black

Palm Desert Mountains

Palm Desert Canyons

Barsebäck Golf Club

Black Mountain

The Canadian Club

Österåkers Golf Club

West Maui Plantation

Warwick Hills Golf & Country Club

Fylde Links

Cogs Corner

Twisted Twig
OptiShot Golf Mat
OptiShot's high-grade golf mat is specifically designed to fit the OptiShot2 Simulator directly into the mat. The OptiShot mat allows for flush mounting of the OptiShot2 simulator providing a perfect fit to get the full experience. The high-density foam and high-quality turf delivers the lifelike golf experience right in your home.

Size: 4' x 5'

High-Density Foam & Turf

100% U.S. Made

OptiShot2 Simulator into Mat for Flush Mounting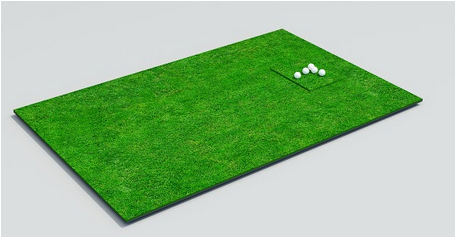 OptiShot Golf Net

OptiShot's durable hitting net is designed to fit most environments. This easy setup net allows you to use your OptiShot2 without the worry of using real golf balls in your home.

Size: 7'(H) x 10'(W) x 3'(D).

Rated for ball speeds up to 175 mph

High-Quality Mesh Netting

Easy Setup

Use Real Golf Balls or Foam Golf Balls

Travel Case Included

Fits in Most Spaces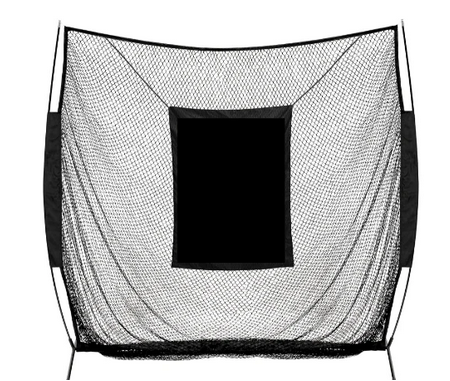 Windows Minimum System Requirements: 
Windows® 8, 10 or 11 (latest service packs)

 

Graphics Card: 

256MB available Adapter RAM with OpenGL 2.0 support and the latest Video Drivers.

3GB Hard Disk Drive Storage

 

4GB RAM

 

USB 2.0 port

 

Internet connection for software installation, updates, Platinum course delivery, and online play
NOTE: Not compatible with macOS